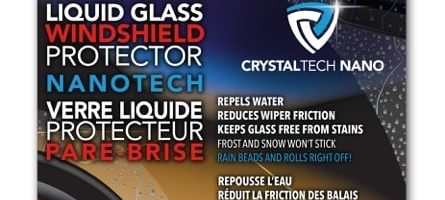 Winter in Canada can be lots of fun, except when you are driving and getting all the salt and slush landing on your windscreen from the car ahead.
While various products out there have tried to tackle this nasty problem, none of them provide an all-round 365 type of protection.
Well, here comes Crystal Tech Nano 2.0, with their latest and greatest product, the windshield protector.
They have applied the nano technology used in their proven and trusted smartphone liquid screen protectors, in a formula made specifically for your windscreen.
It is very easy to apply; in fact, it takes only 3-4 minutes start to end. But the end result is nothing short of amazing.
The nano film protecting your windshield, now repels water forcing it to bead-up and slide off, but it also puts up a guard against stains, snow, ice and debris.
The best part is, that nano layer is a true shield when it comes to stone-chips, scratches or potential hits that could cause a crack. And it lasts up to a year.
We have tested it and attest to its effectiveness, and honestly, it feels great seeing those wipers slide effortlessly across the windscreen, removing a fraction of whatever is still there.
Try it today, you will not be disappointed.