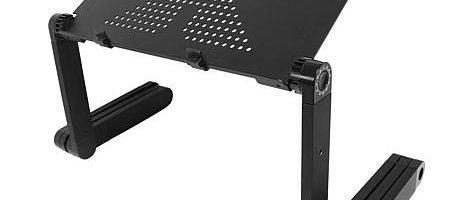 Freedom is a powerful word. Freedom is your right. FLEXdesk gives you Freedom.
Freedom to move around, to get comfortable, to go after your right to be happier when you work, play or learn.
Put an end to the restraints imposed by traditional desks or strains to your arms while holding your devices or books for a prolonged period of time. Most importantly, it does all that with a simple and affordable way.
Grab your FLEXdesk today, and swivel the joints around to create your own fully customizable stand for your laptop, tablet, drawing, book, you name it!
Take it to bed and eat your breakfast on it; its high-strength lightweight steel chassis isn't only sturdy and durable, it is also spill and stain proof, so no fear.
If you are experiencing backaches or just need to work healthier by standing up, the FLEXdesk will do the trick.
It will also help you organize your workspace; raise your cookbook in the kitchen to avoid getting it soaked or soiled, use it to hold your notes as you play your favorite instrument, file hard-copies or placing a keyboard underneath it as you work on your taxes, the possibilities are endless.
Checkout the photo gallery for all the cool positions you can set it to, and use your own imagination to figure out even more!