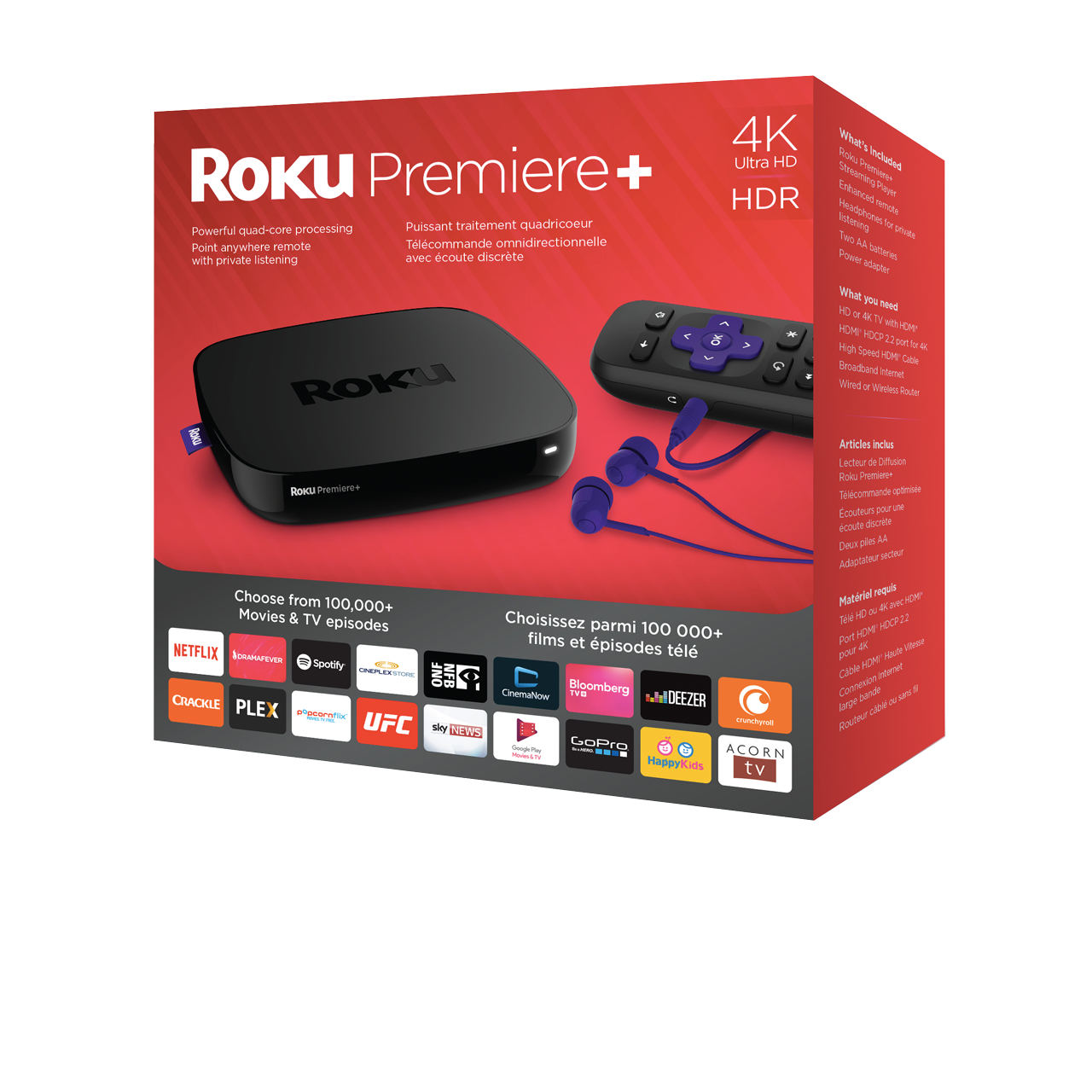 Get ready to "Roku" your world, with an entertainment content overdose
Unleash the potential of your in-home entertainment with the simple addition of a small portable device that packs a punch that would hurt Chuck Norris. The Roku Premiere+ media streaming box delivers content and capability no one else can match. With a quad-core processor, AC Wi-fi speed, 4K/60p output and HDR capability look no further, the champion internet media box is here.
Roku brings 2,500+ channels to your screen, the most channels ever seen in a single box, extending your cable TV channels to any location within or outside of the house. No need for second or third set-top-boxes, the Roku Premiere+ is so portable, it can follow you to the basement or patio when the game is on!
Sports, health, documentaries, reality TV, movies, TV shows, cartoons and more, all await to be discovered featuring hundreds of hours of free and paid content. There is no monthly subscription involved, and paid content ensures that you never pay for more than you view. You can view your favourite channels you subscribe to via your cable provider like NBA, NHL, Disney and more, or use the build-in apps to view Netflix, YouTube, Yupp and more.
The Roku has a very nice interface. The graphics are sharp and the menus are very easy to navigate, making the device a pleasure to use. The powerful processor and speedy Wi-Fi ensure snappy responsiveness and lag-free content browsing. The intuitive point anywhere remote is the perfect size, feels rugged and also comes with three special features.
It can become a game controller; yes, you can play really cool games on your Roku. It is also equipped with a headphone jack so you can listen to your shows without bothering others and without being tethered through a 25ft cable. Finally, it supports voice enabled search, so you can find that movie, actor, director trouble free even if you can't spell their names.
Best of all, the Roku Premiere+ comes with a really handy mobile app, for both IOS and Android devices; it allows much more than remote control functionality. You can cast all the pictures and videos from your mobile device to your big screen and share life moments with an audience ready to admire your win or laugh at your fail.
In addition, night listening mode will normalize audio so you can watch without the sound getting too loud or too quiet.
For the travellers, the Roku Premiere+ comes with a feature called Hotel + Dorm Connect which allows you to connect it to a Wi-Fi that requires a web login, so even when you are away from home you can still catch your favourite shows.
If you are a movie indulger, or a binge TV watcher, we have one piece of advice for you:  get your popcorn ready!  Things just got interesting.  Now THAT'S TV.
*Shows are subject to geo-location licences and may not be available in all countries.